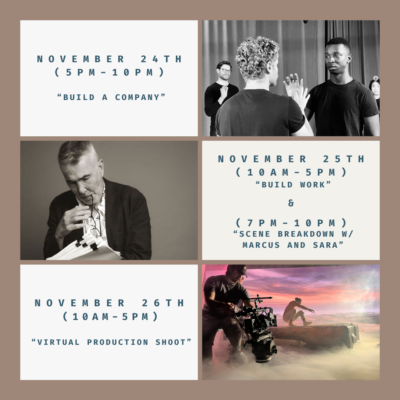 World-renowned acting coach Andrew Mcilroy and award-winning actress Sara Canning are both passionate and intuitive instructors. With host and long-time collaborator Marcus Rosner of Northern Gateway Films, they have created a weekend event that fosters deep investigation and excellence in execution. This 3-day workshop will explore how to Build a Company, Build Work, and then focus on Scene Breakdowns with Marcus and Sara and on the last day, experience a Virtual Production Shoot.
Dates & Times:
Friday, November 24, 2023: 5pm – 10pm
Saturday, November 25, 2023: 10:00am – 5:00pm & 7:00pm – 10:00pm
Sunday, November 26, 2023: 10:00am – 5:00pm
Held in Person (Edmonton)
Cost: 
Participants: $100.00 + GST (ACTRA Subsidized)
12 ACTRA Alberta members in good standing.
Auditors: FREE
Open to Alberta Students who are currently studying acting (theatre or screen) and ACTRA Alberta Members only.
Please submit your headshot and resume to be considered for this class. Please submit to ABevents@actra.ca when registering for the workshop.

There is a limit of 12 participants for this event: All participants will be selected by the facilitators.
Please note: For selected participants – Materials / homework will be sent out to participants prior to the workshop.
Registration Cut-off Date: November 15, 2023
"Our intended goal is to create a company atmosphere that supports individual excellence. As we are so often asked to commodify and monetize our gift – It is important that we shore up our agency as performers and creators.
Your interpretation is to be celebrated and we will create a cohort that firmly helps you to further:
DECLARE YOUR MAJOR!
There will be notes.
There will be homework.
There will be audition strategies.
There will be filmed work.
There will be take away records of your work."
-Andrew Mcilroy
"I'm fueled by the rabbit holes actors throw themselves into during rehearsal process. With this workshop, I hope the concept of auditioning becomes its own clarified extension of the actor's enchantment in their ever-evolving relationship with process." -Sara Canning
"When I left Edmonton to start my career, I was lucky to fall in with the best and the best is what our city deserves. That's why, along with the help of ACTRA and ESIO, I'm bringing them here." -Marcus Rosner
CLICK HERE TO REGISTER AS A PARTICIPANT