Diversity & Inclusion Committee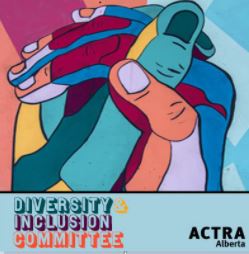 The ACTRA Alberta Diversity & Inclusion Committee, founded in 2020 to address the challenges faced by the BIPOC artistic community within the film and television industry in Alberta. We acknowledge that the systemic, systematic, conscious, and unconscious biases that infect our communities is a broad societal crisis, one which the film and television industry has contributed to. However, this is our chance to inspire and facilitate change in this industry. Even though there has been gradual improvement, representation of socially valued roles, jobs, and titles are still underrepresented by the Indigenous and Black population, as well as other marginalized groups. We are dedicated to initiating policies and advocating support structures in order to provide a better understanding of the need for change both within ACTRA and the industry at large.
Vision
The ACTRA Alberta Diversity & Inclusion Committee is a volunteer committee made up of ACTRA members who are professionals in the media industry, supported by ACTRA staff. As committee members, we envision a better working environment and more opportunities for BIPOC actors who are ACTRA members. We draw from our personal experiences as members of the BIPOC community, and/or our knowledge and understanding of the administration at ACTRA to identify and articulate the contemporary challenges in order to then create policy and circumstances to support change. We will use our work to contribute to the long term goal of shifting the consciousness of colonial thinking with the hopeful outcome of an industry and association that is inclusive of all its membership no matter what culture or diverse background.
Mission
The ACTRA Alberta Diversity & Inclusion Committee supports the following objectives:
To build policies and initiatives within ACTRA that will help foster Diversity and Inclusion.
To liaise with the BIPOC communities to help identify and articulate current challenges.
To liaise with industry personnel to ensure that they are aware of the issues faced by members of ACTRA who are from BIPOC communities.
To initiate support structures within ACTRA that directly support the BIPOC communities in dealing with these challenges.
Organize workshops and events to help develop BIPOC talent.
The Member of the Committee:
Faith Louissaint – Chair
If you are interested in joining the committee or have questions, please email at Branch Rep. Tina Alford (talford@actra.ca)