On Camera Connection – Weekend-Long Intensive with Nikki Hulowski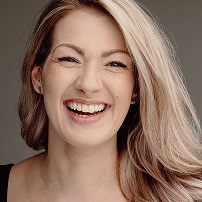 Date: Saturday, April 29, 2023 & Sunday, April 30, 2023
Time: 11:00am- 5:30pm 
Cost: $25.00 + GST per participant 
Location: Calgary – ACTRA Alberta Office
These sessions will be IN PERSON – No More Spots Available
Available to ACTRA Alberta Members Only

Registration Cut-off Date: April 23, 2023

REGISTER HERE – The Workshop is Full
 
Participants must be able to participate in both sessions
Recommended experience level: Intermediate or higher (Must have at least 1 ACTRA Credit)
Recommended age range: 18+
As artists and individuals, we crave connection on-camera or off and that's precisely what our audience craves when they watch our performances; they are looking to share an experience outside of their daily routines. Using improvisation and clown work, we'll dive into on-camera exercises that will open you to fast, smart, safe connections with your scene partners and yourself. This weekend-long intensive will teach you how to get out of your head and into the scene so that the sparks can fly for you and those watching from home.

What previous participants had to say:
"Nikki did a tremendous job of making every person in the workshop feel comfortable and accepted in the space. She held us accountable and pushed us past the barriers to show beautiful amounts of growth and development. This class was a space unlike any other, and I was so thankful for the opportunity to participate in such an unexpectedly meaningful, educational, and inspiring course."
Nikki's Bio:
Nikki Hulowski (Nikki Rae Hallow) is a Canadian actress, comedian, writer, instructor, and voice actor. She is a graduate of the University of Alberta BFA Acting program in 2015. Nikki has been a professional improviser for over 10 years and is a cast member of Rapid Fire Theatre, and the renowned Improvised Live Soap Opera, DieNasty.
Nikki is a member of the Canadian sketch troupe, Marv n' Berry, which has found international success, touring throughout North America teaching their craft, and producing and performing for sold-out houses.
As an individual, Nikki has toured across North America and Europe performing, instructing, producing and more for theatre, film & television, and her live comedy.