On Camera Connection Workshop
"Having worked with Nikki it's clear to see her passion for the craft and experience as a professional. However, what truly equips her to be an effective instructor is the natural writer within. Armed with the talent to perform and the imagination to create, Nikki is an ideal choice to teach others how to access the best of their abilities." 
As artists and individuals, we crave connection on-camera or off and that's precisely
what our audience craves when they watch our performances; they are
looking to share an experience outside of their daily routines. Using improvisation and clown work, we'll dive into on-camera exercises that will
open you to fast, smart, safe connections with your scene partners and yourself.
This four (4) week course will teach you how to get out of your head and into the
scene so that the sparks can fly for you and those watching from home.
Sunday's, February 5, 12, 26 and March 5, 2023
*Participants must be able to participate in all four sessions.
These sessions are in IN PERSON (not ZOOM)
12:30 pm – 3:30 pm
Location: The Stunt Garage
11511 120 Street NW, Edmonton, AB
Cost: $55.00 ($52.58 + 5% GST) per participant
Open to ACTRA Alberta Members Only
Recommended age range: 18+
Recommended experience level: Intermediate or higher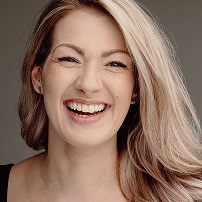 Facilitator: Nikki Hulowski
(Nikki Rae Hallow)
is a Canadian actress, comedian, writer, instructor, and voice actor. She is a graduate of the University of Alberta BFA Acting program in 2015. Nikki has been a professional improviser for over 10 years and is a cast member of Rapid Fire Theatre and the renowned Improvised Live Soap Opera, DieNasty. Nikki is a member of the Canadian sketch troupe, Marv n' Berry, which has found international success, touring throughout North America teaching their craft, and producing and performing for sold-out houses. As an individual, Nikki has toured across North America and Europe performing, instructing, producing and more for theatre, film & television, and her live comedy.